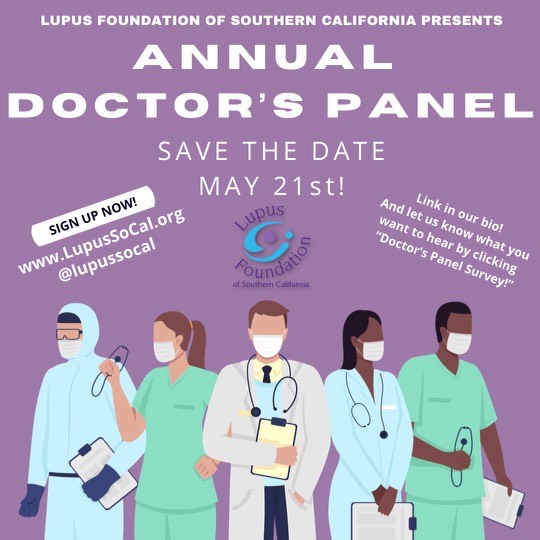 Save the Date!
Join us on Saturday, May 21, as we host our annual San Diego Doctors' Panel Discussion on Lupus! During this free webinar-style panel discussion, you'll hear from a group of local lupus experts and have an opportunity to have your questions answered regarding a broad range of lupus-related topics. Learn more about each of our expert panelists, then click the "REGISTER" button below or above to secure your place.
Our Panelists
Dr. Arthur Mabaquiao, M.D.
Dr. Mabaquiao is a rheumatologist in San Diego, California, and is affiliated with Sharp Grossmont Hospital. He received his medical degree from Loma Linda University School of Medicine and has been in practice for over 20 years. He is one of six doctors at Sharp Grossmont Hospital who specialize in Rheumatology. We're excited to have Dr. Mabaquiao on our panel for 2022!
Dr. Angelique Pillar, M.D.
Dr. Angelique Pillar is a fellowship-trained and board-certified ophthalmologist specializing in cataract, cornea, and refractive surgery. Raised in the San Francisco Bay Area, Dr. Pillar is a graduate of Yale University and Harvard Medical School. She completed her Ophthalmology residency at the University of Maryland in Baltimore and a fellowship in corneal and refractive surgery at the Cleveland Clinic. She then returned to Baltimore and joined a busy private practice while serving as a Clinical Assistant Professor at the University of Maryland. We're excited to have Dr. Pillar on our panel for 2022!
Dr. George Kroumpouzos, MD, PhD, FAAD
Dr. George Kroumpouzos is a Clinical Associate Professor of Dermatology at Brown University and a Board Member of the International Academy of Cosmetic Dermatology. His expertise is in the fields of procedural dermatology, gynecologic/obstetric dermatology, skin cancer, and disorders of pigmentation. Dr. Kroumpouzos has been practicing dermatology for almost 20 years and has an extensive 25+ year career in research. His clinical practice focuses on dermatology, phototherapy, and laser surgery. We're excited to have Dr. Kroumpouzos on our panel for 2022!
Date/Time: 
Saturday, May 21, 2021
10:30 A.M. - 12:00 P.M.
Location: 
Online via Zoom (info to be provided upon successful registration)
AND
In-Person at United Way of San Diego County
4699 Murphy Canyon Rd
San Diego, CA 92123
1. Registration for this event closes promptly on Friday, May 20, 2021, at 6:00 P.M.
2. Questions submitted during registration will receive top priority.
3. If you will be attending online: Your Zoom profile information should match the info provided during registration to ensure your admittance into the event.
4. If attending in-person: All visitors will need to check-in and be screened upon entry AND masks must be worn indoors at all times.